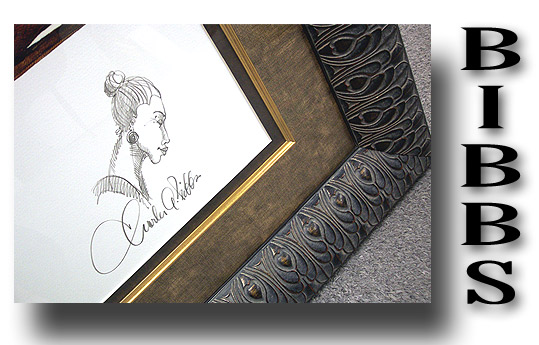 This page shows framed pieces we did for Charles. We have since parted ways but so much work and
effort went into these pieces I thought it right to keep them out there. We started framing for Charles in 1989.
Please do not call us to obtain art. His website is listed below. Go there.
Thanks and enjoy! Bill Baxter / Owner / Baxter's Frame Works
BIBBS WEBSITE... The World Art .Com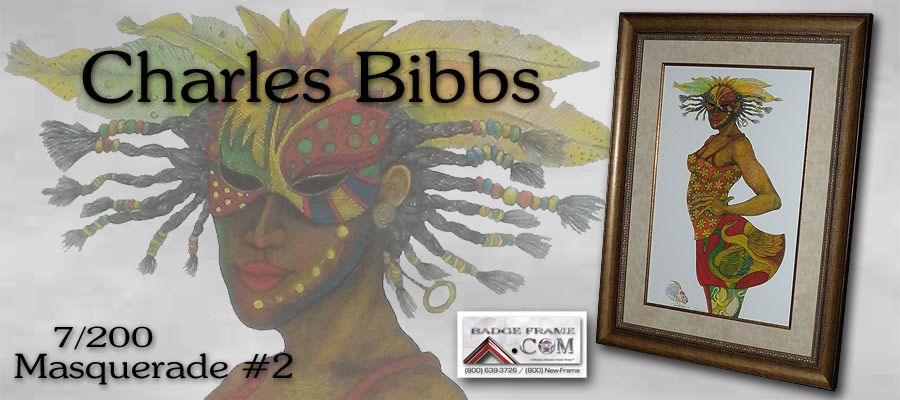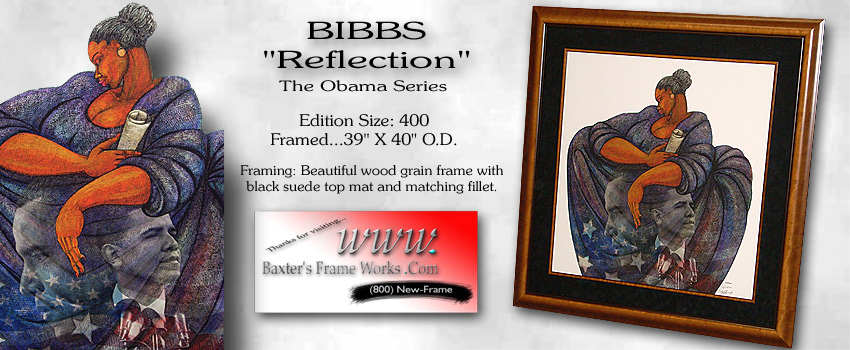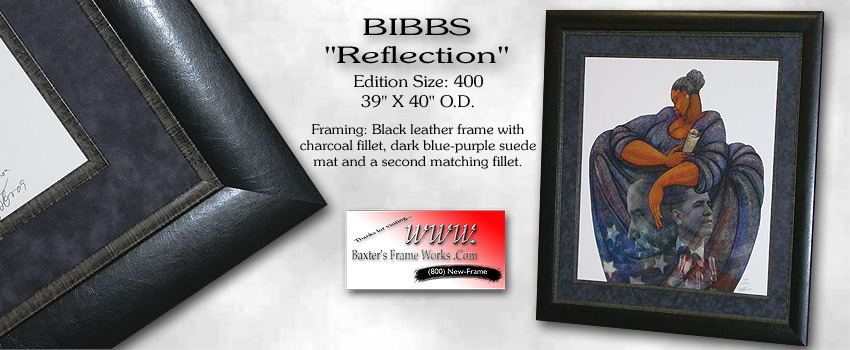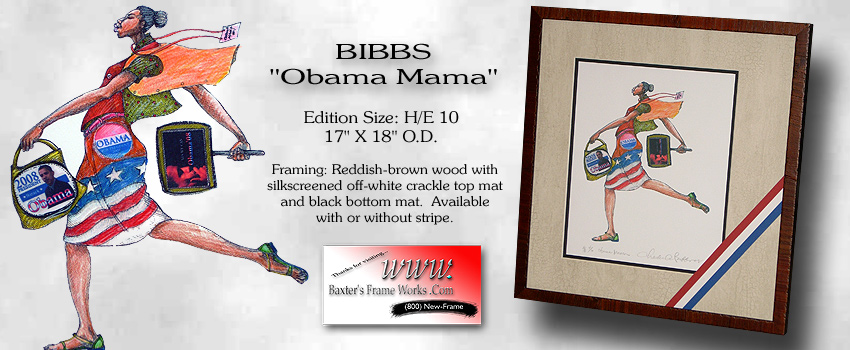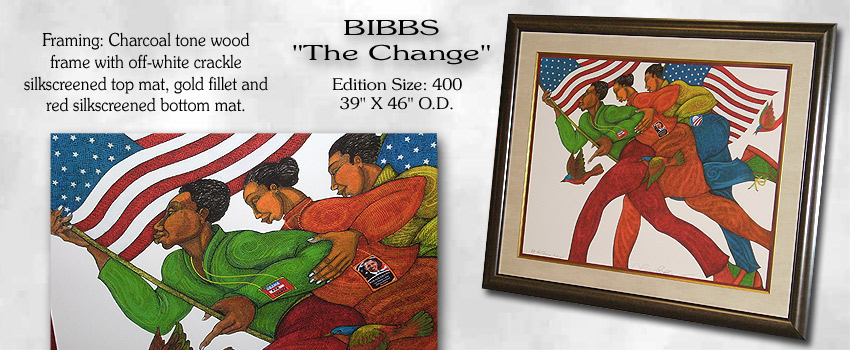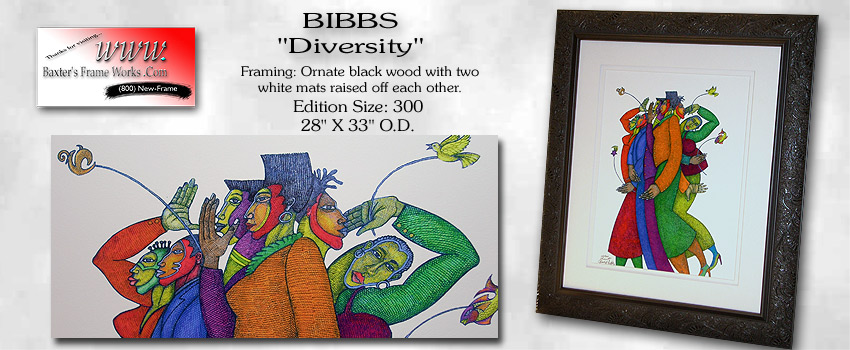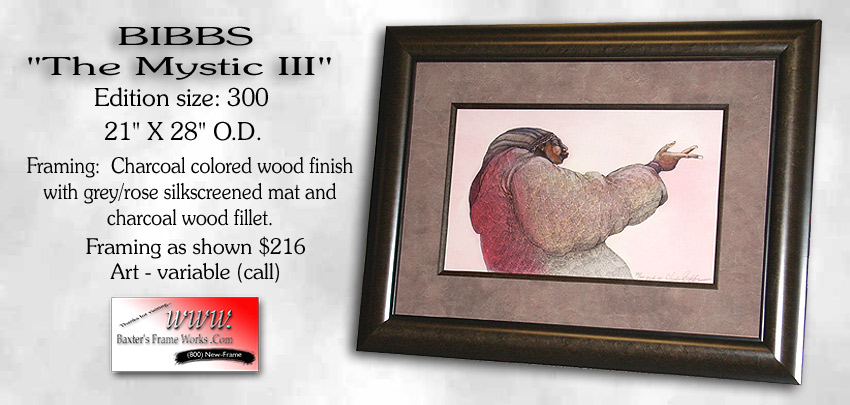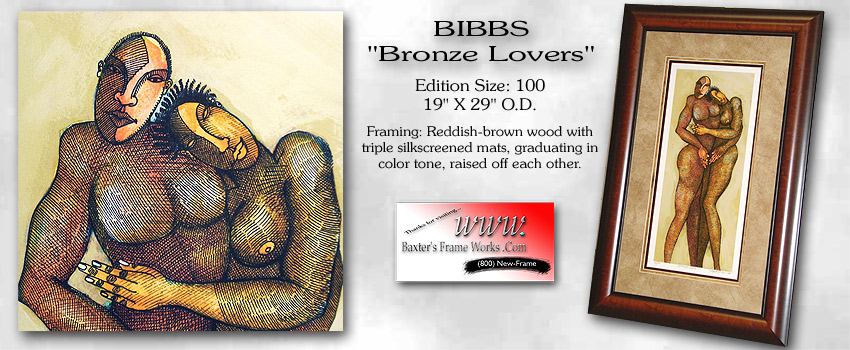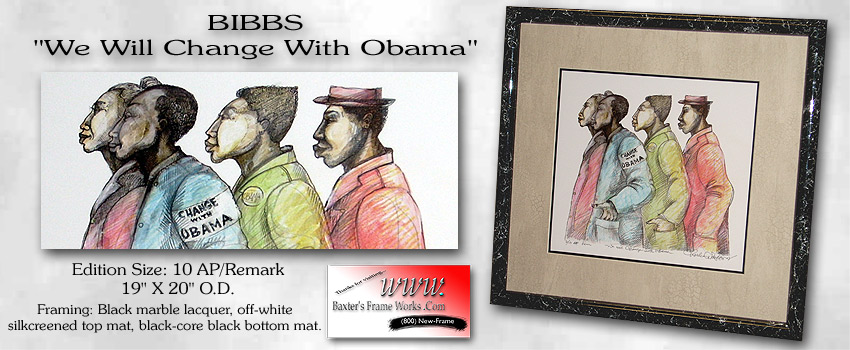 Bibbs plates framed in satin black shadowbox with gold trim. Sides and backboard are black suede allowing all attention to
be drawn to the plates themselves. Frame outer dimension = 23.58" square.







NEW ITEM !!!!
Charles Bibbs /Painted Plates
Available un-framed or framed in black & gold Shadowbox.

These are really nice.
Large and vibrant!!!

See below for dimensions.

Call (800) 639-3726
for information.

Store Manager Jill Hofmann holding plate to shown relative size. (17.75" wide)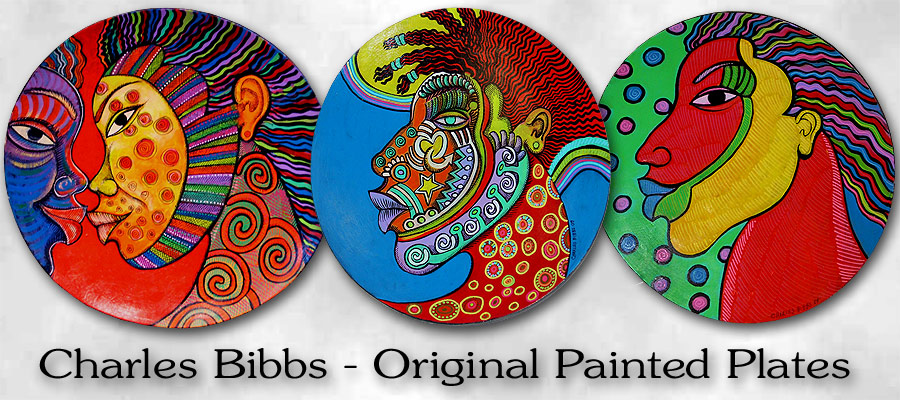 These plates are able to be hung with wire unframed.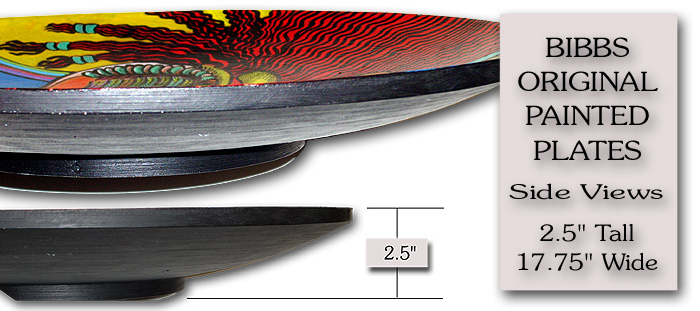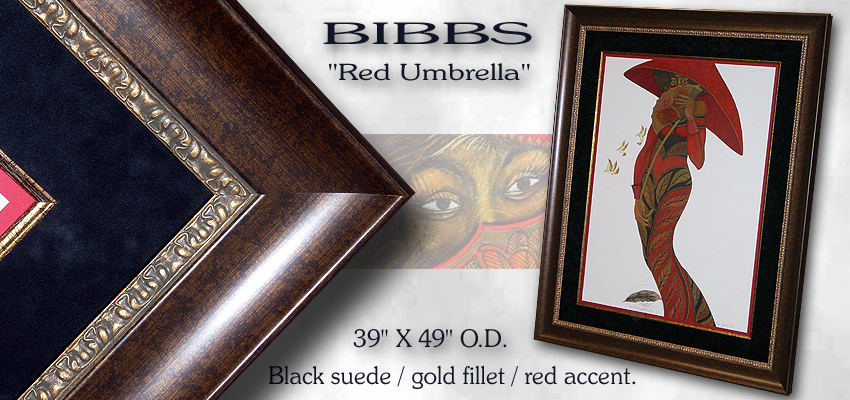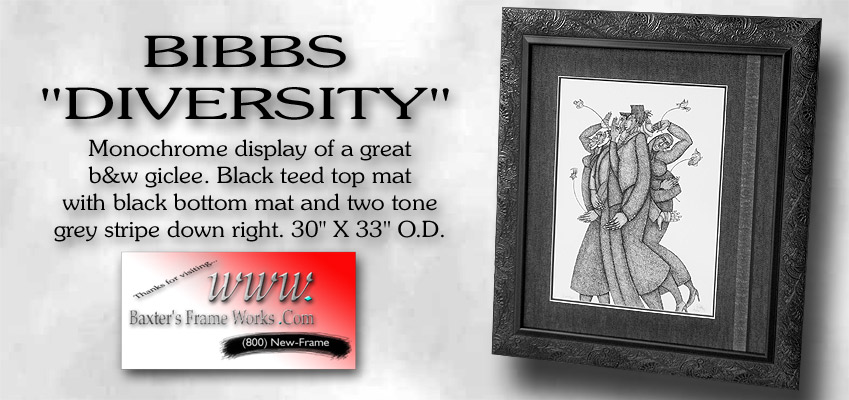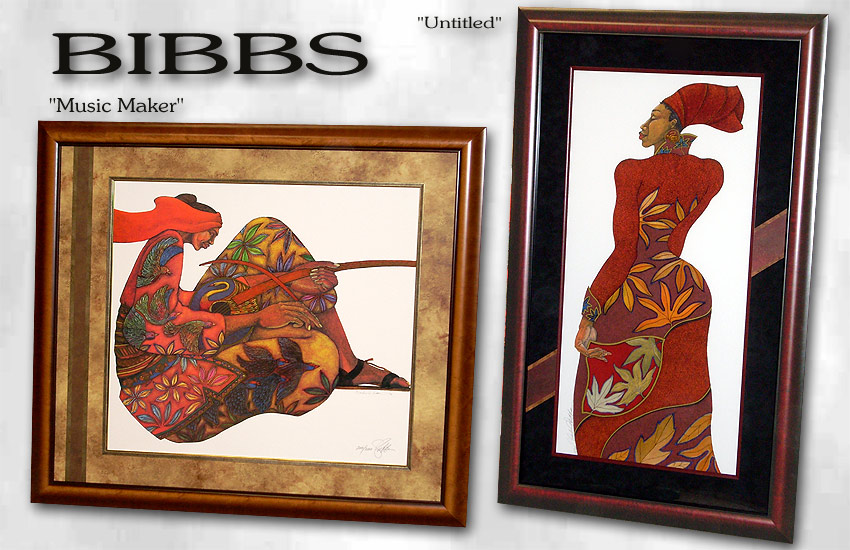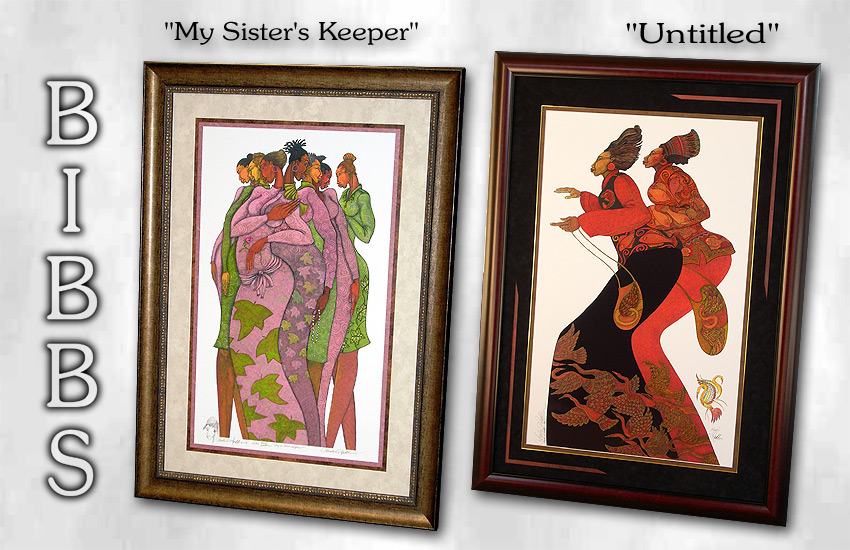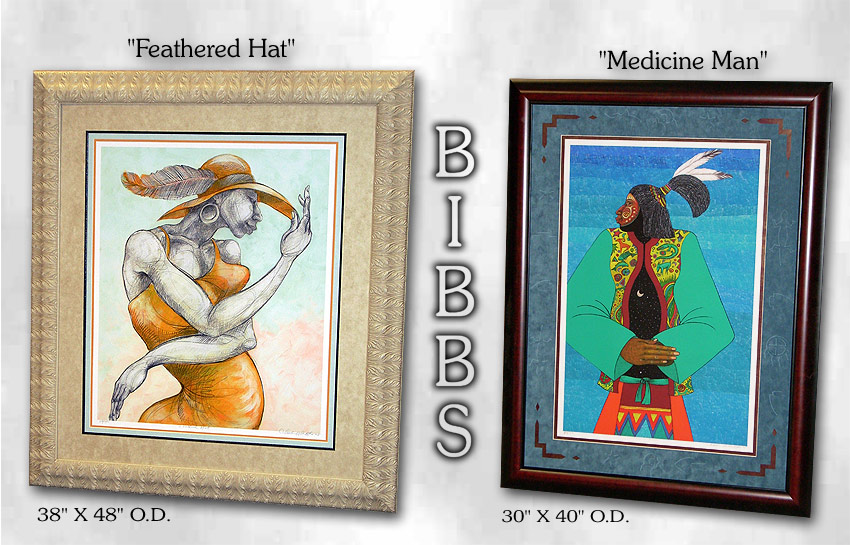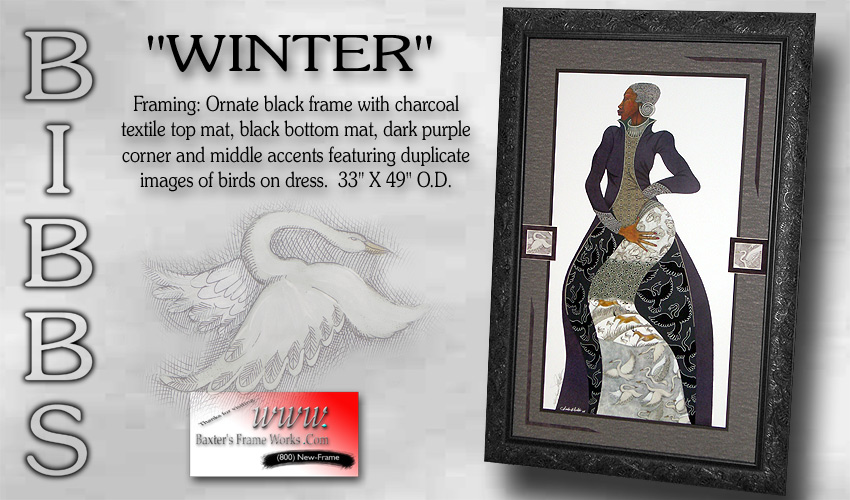 Winter framing as shown $450
"Rhythms of Color" - Limited Edition Print $350 - Framing as shown below $425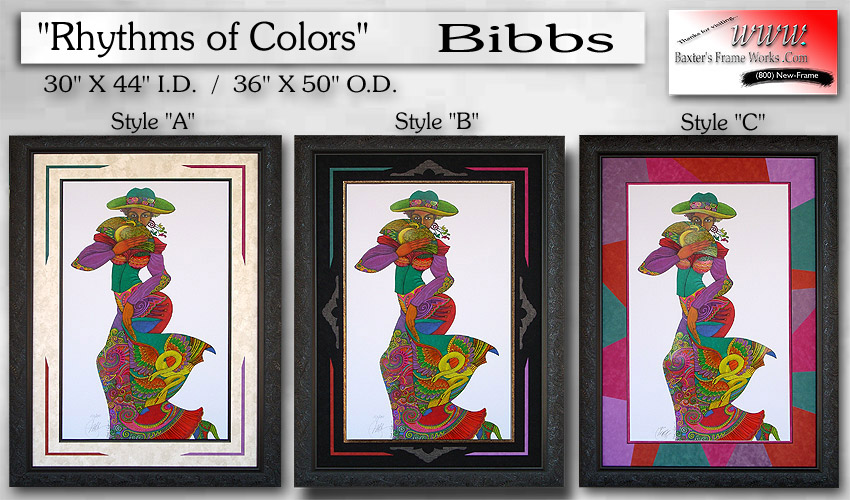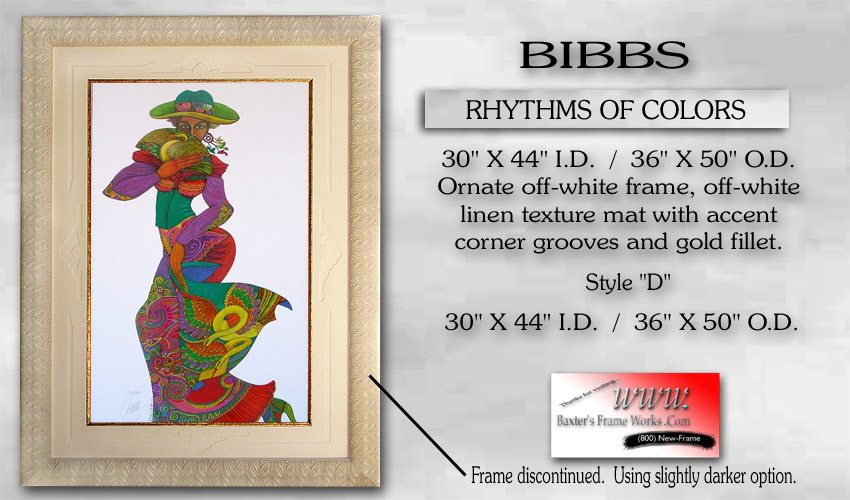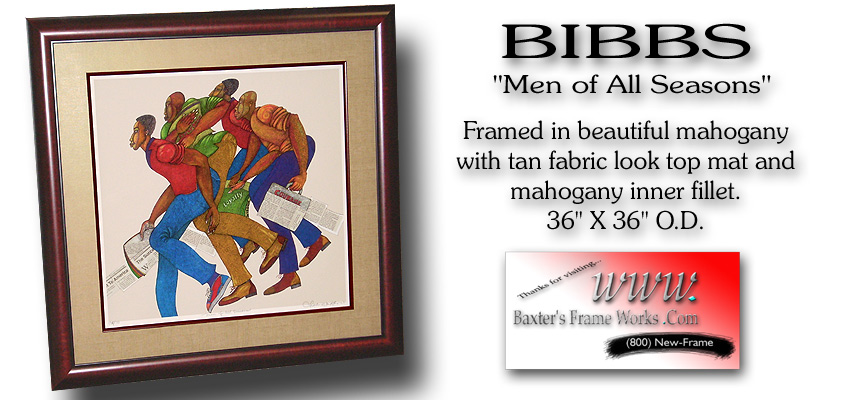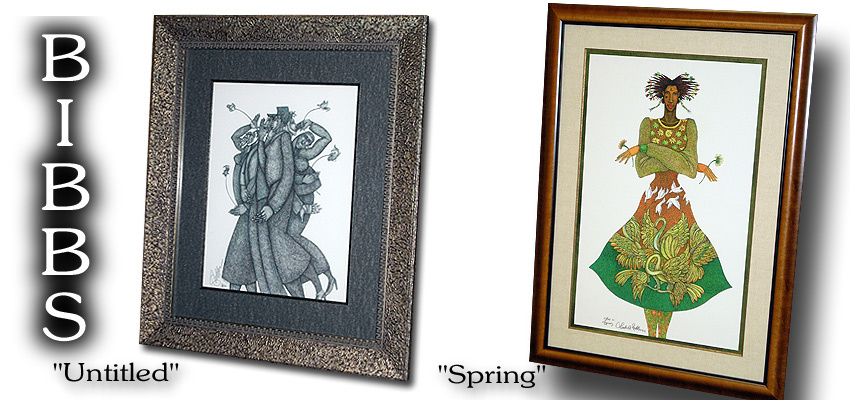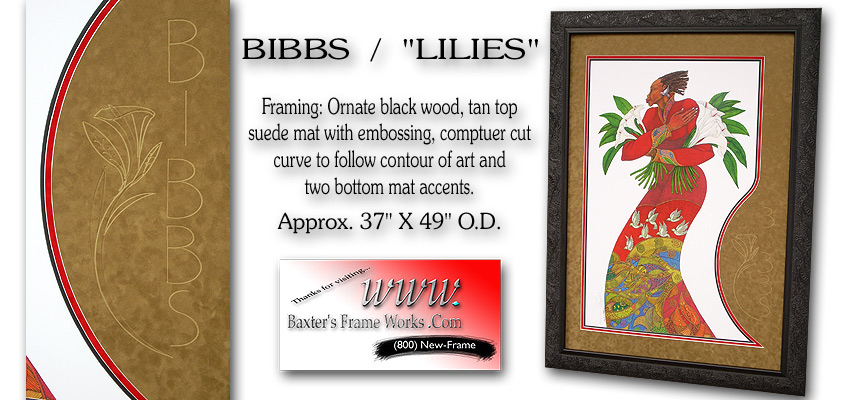 see larger image here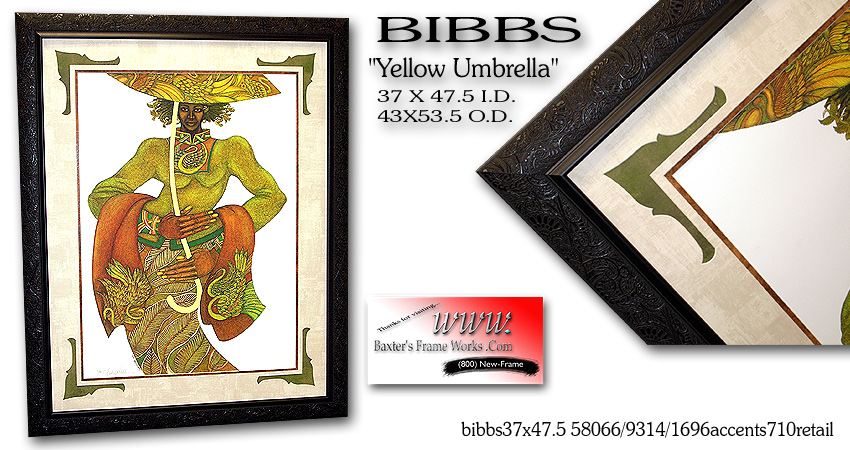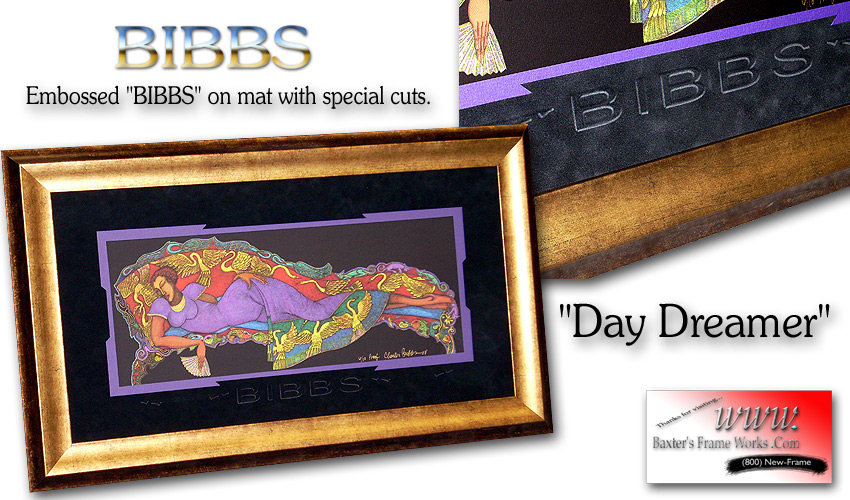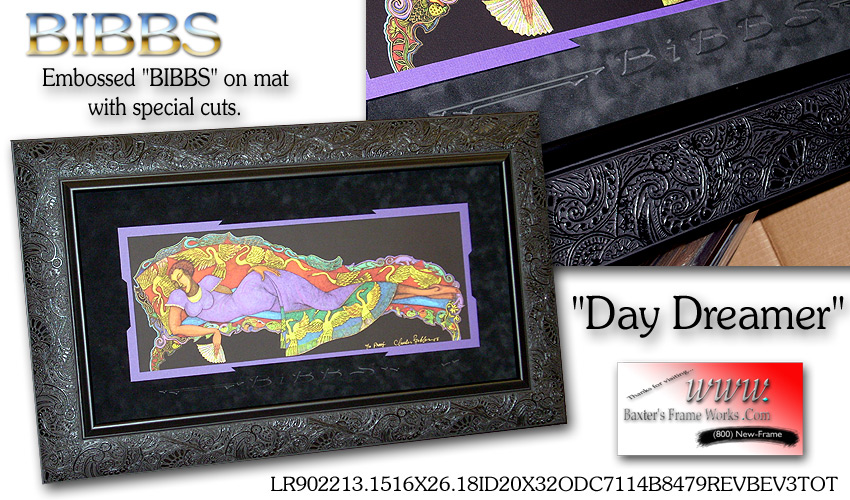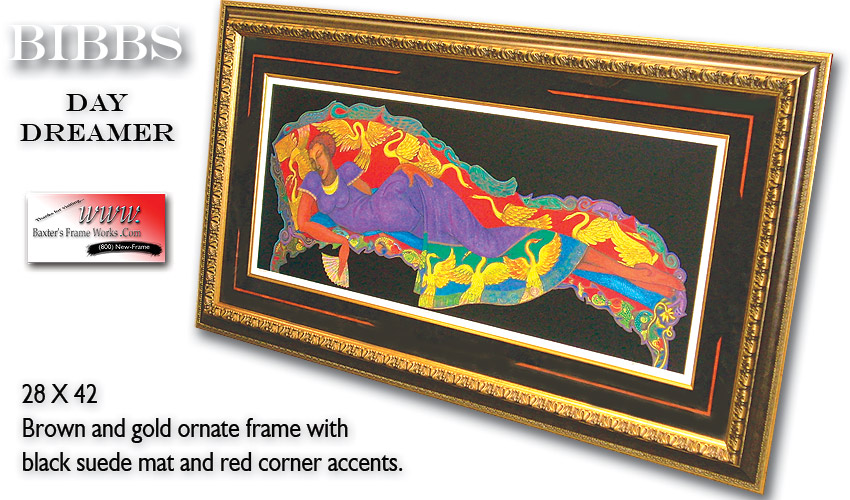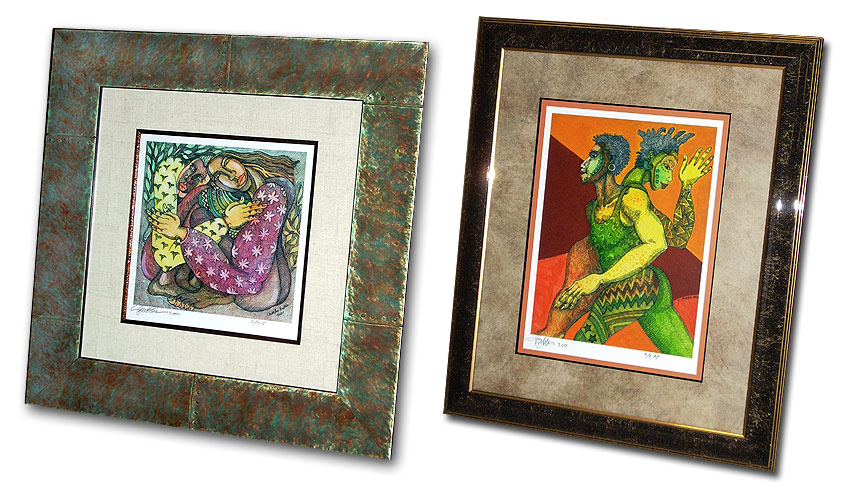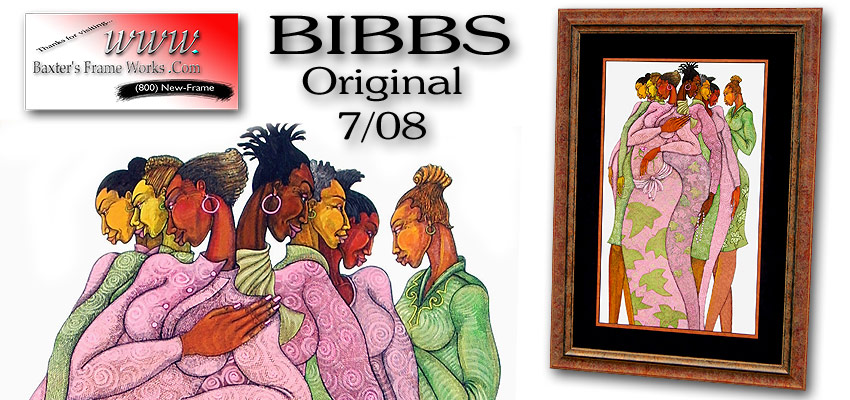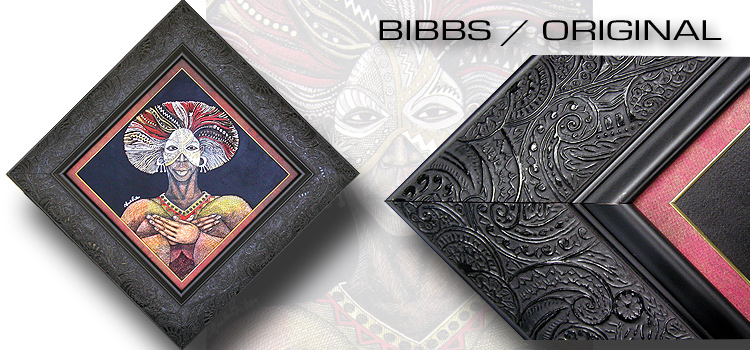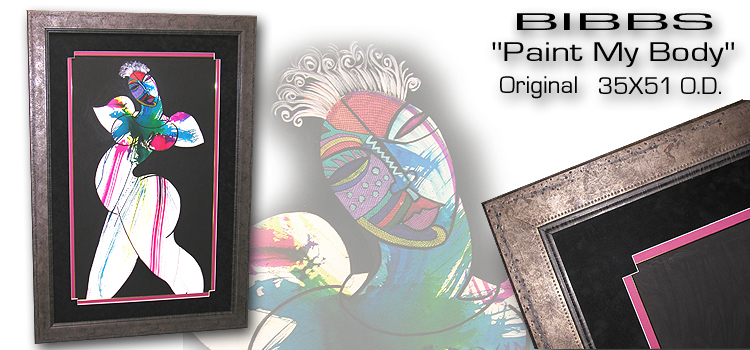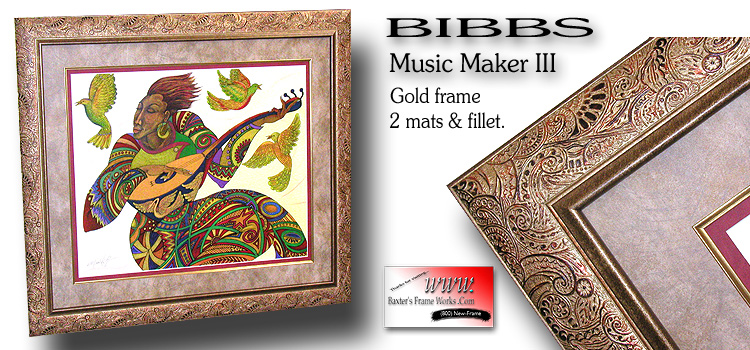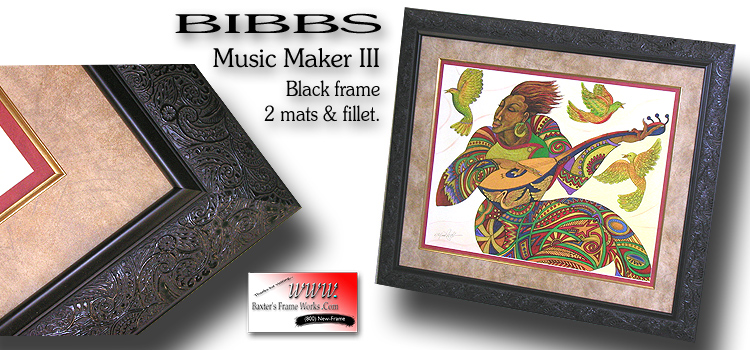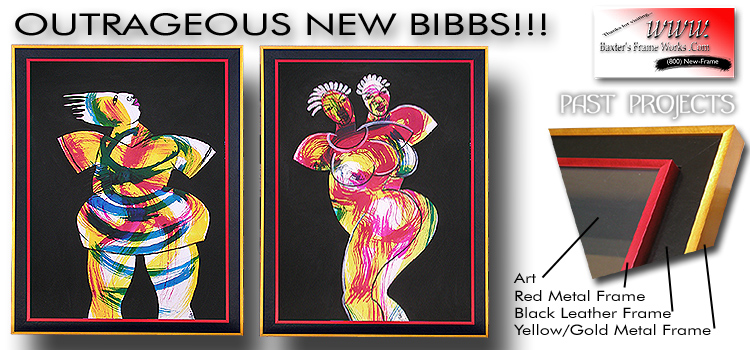 See close-up here
Triple framed in modern profiles. Two metals and one leather.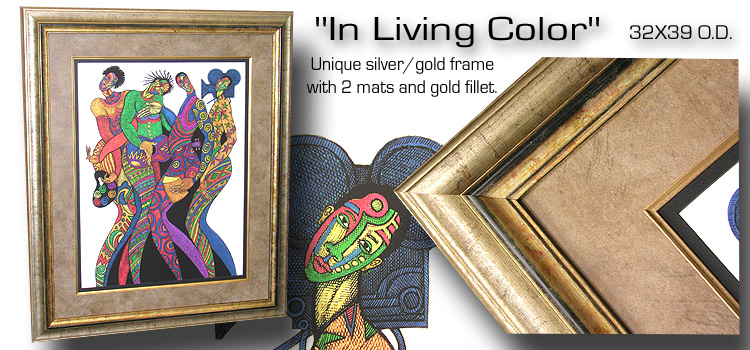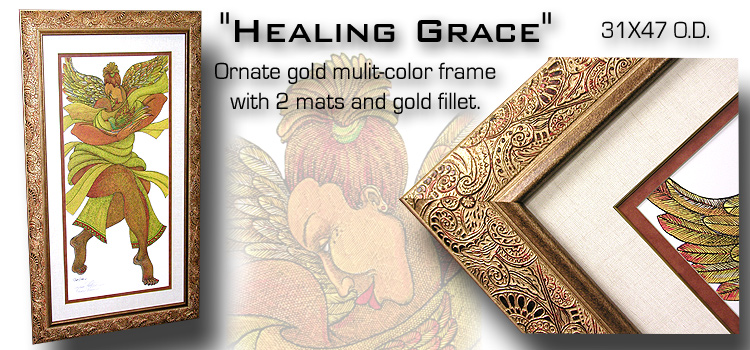 This is a project that Charles and I have put together. It incorporates his latest limited edition
"Mother Earth" with one of our exclusive frames. The design in the dress folds were made to echo
the frame pattern. Very interesting idea...The art actually matches the frame.
This framing is ONLY offered through us and only 100 pieces will be produced.
There are 3 different versions of framing (shown below).
Please contact Charles or us for additional info.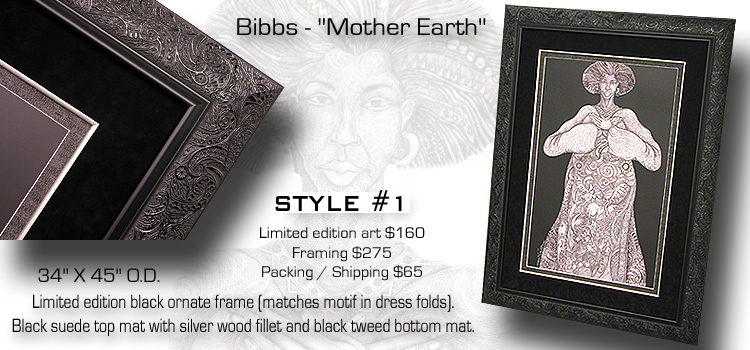 See larger pictures here...
MEF1
MEF2
MEF3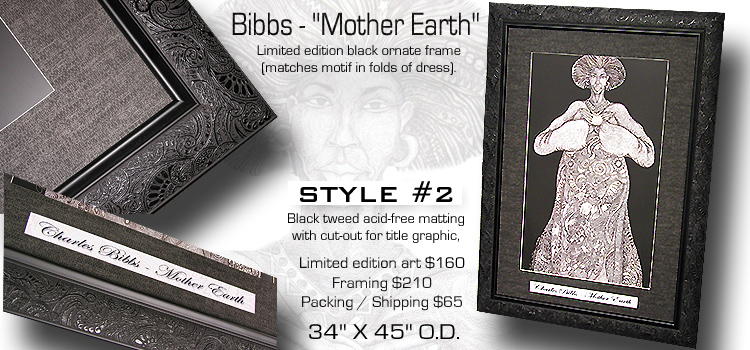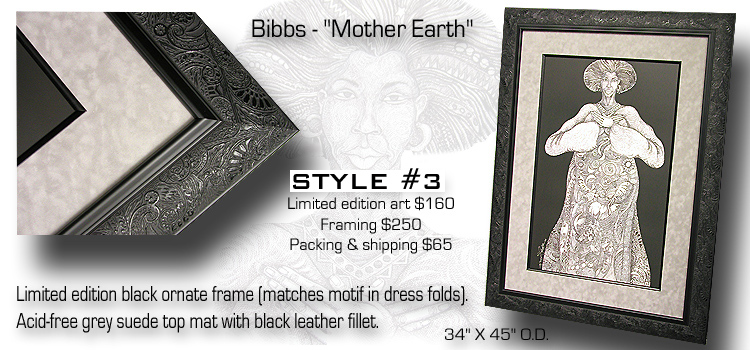 Mother Earth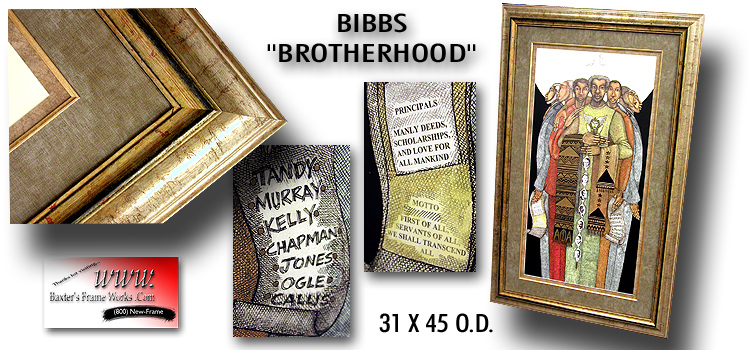 "Mama" Framed in 2.5" rustic copper with neutral silkscreen top mat, rustic fillet and red grass
cloth tweed fabric bottom mat. Shipped with acrylic for safety.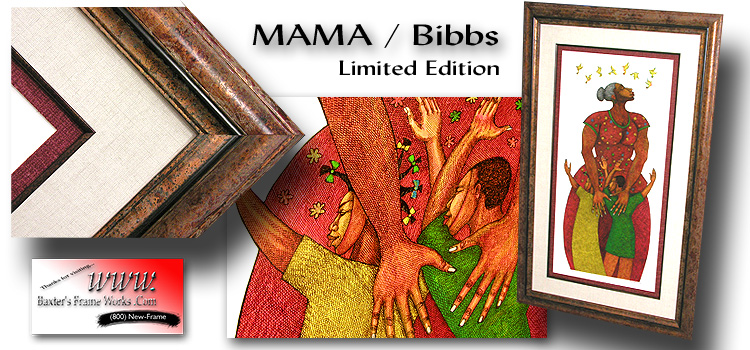 Framing for this piece...$250 / Approx 20X28 O.D.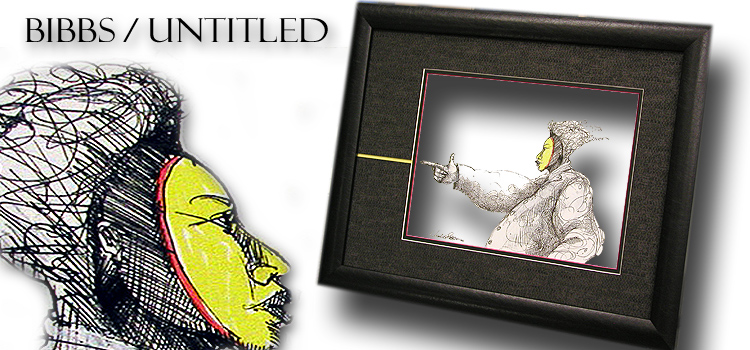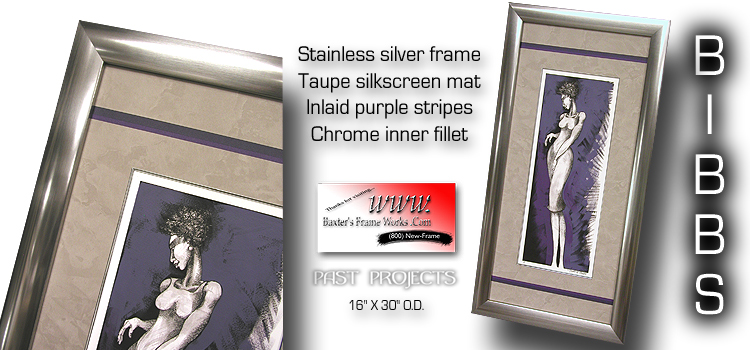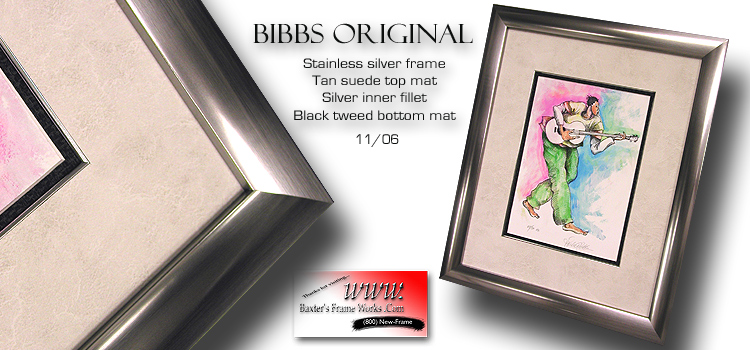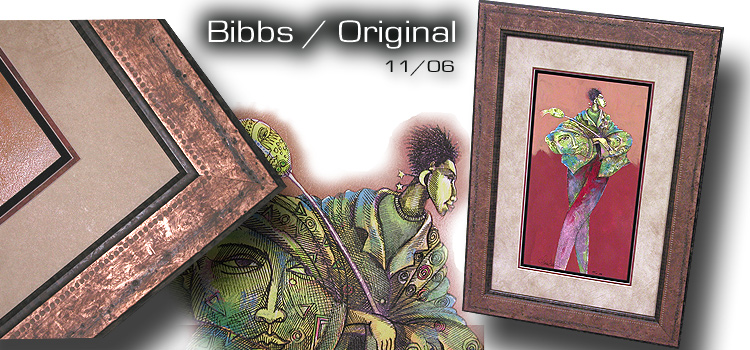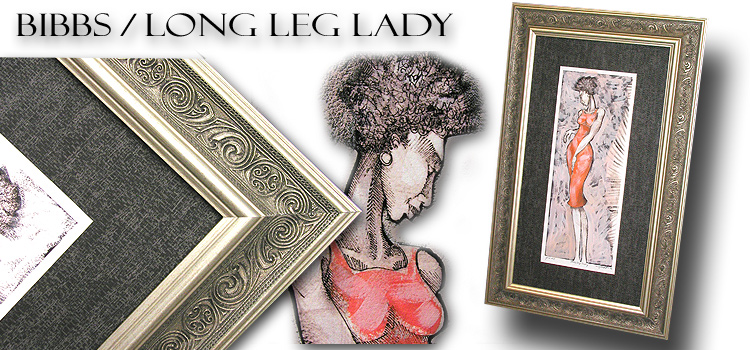 Ornate gold frame with red suede accent liner, black suede top mat, ornate gold fillet black suede bottom.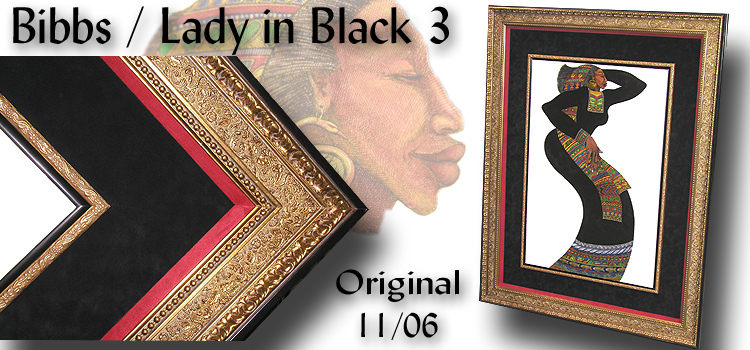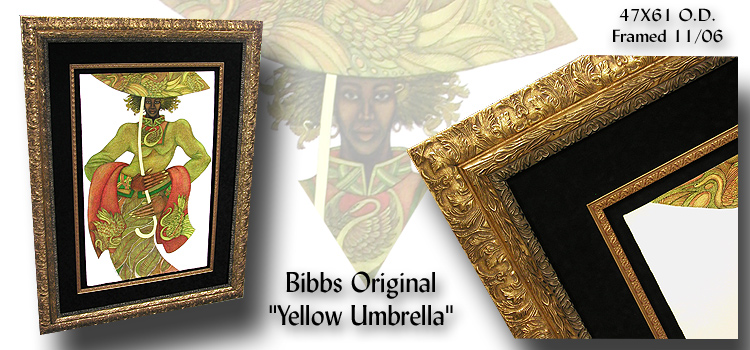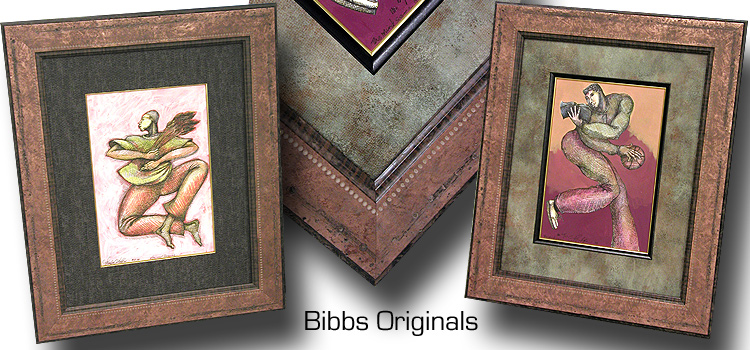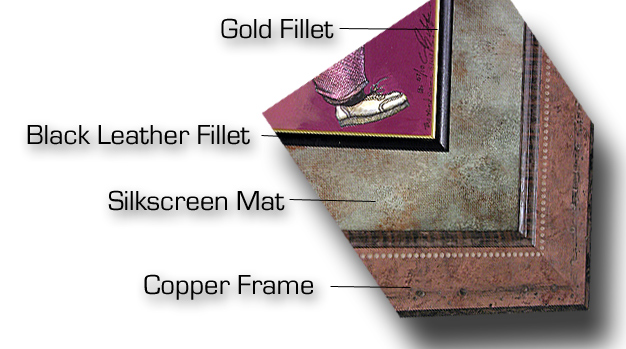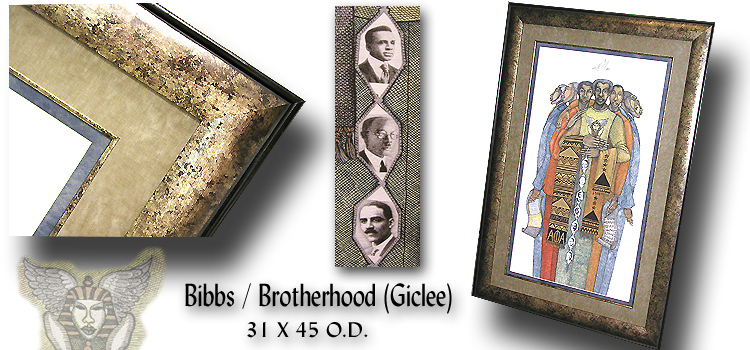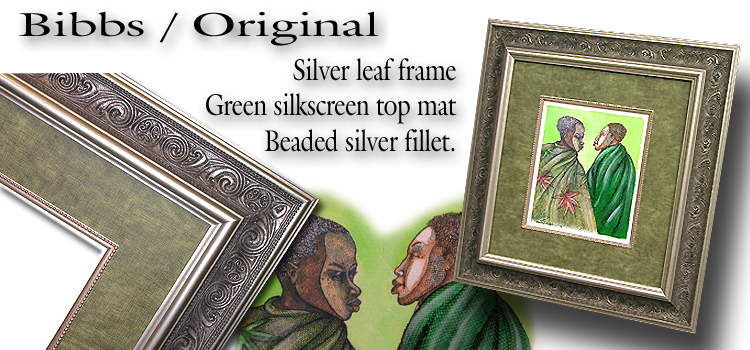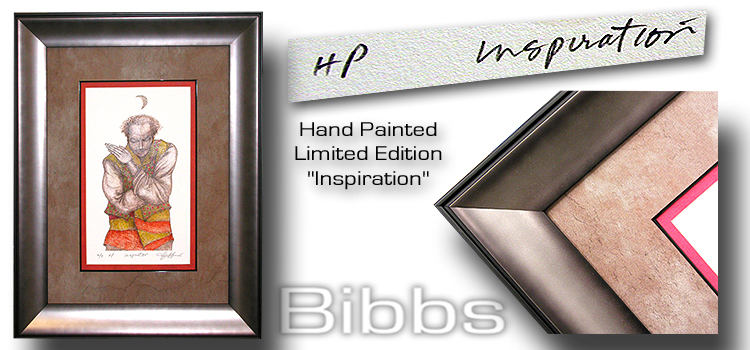 Framed in classic ornate white and bronze stacked frame.
Also available on canvas. Call for details.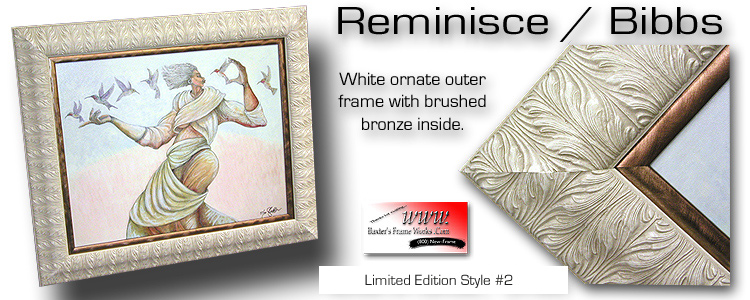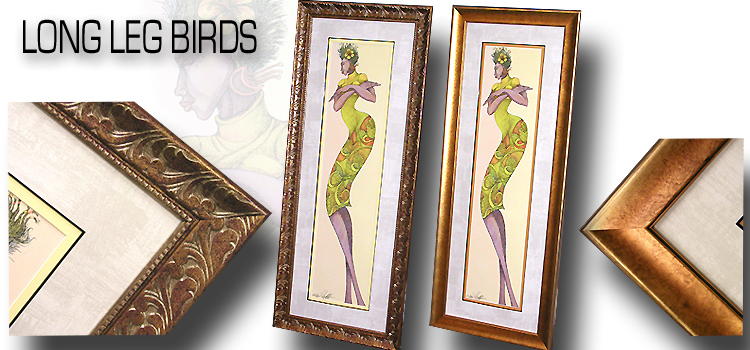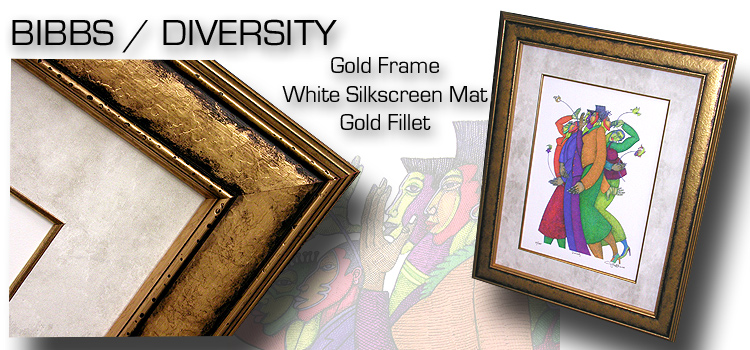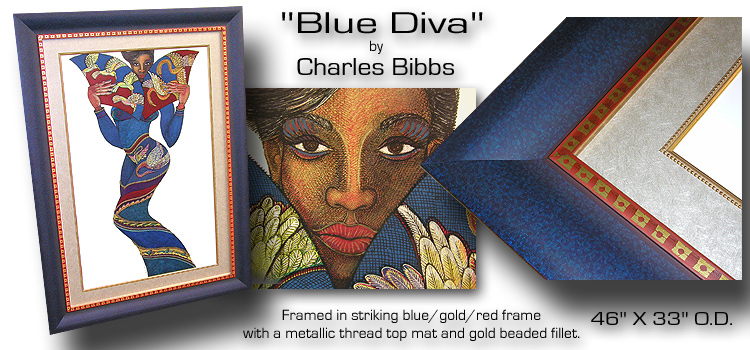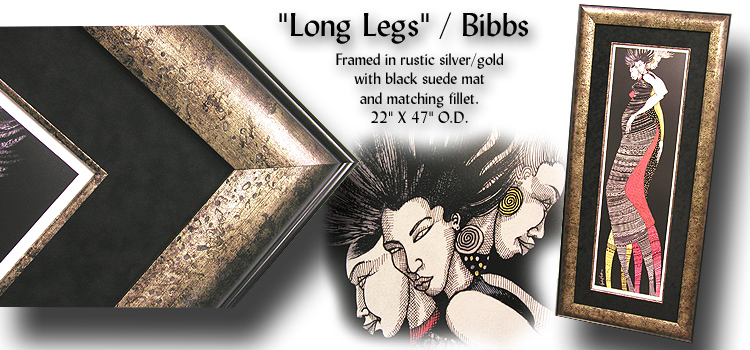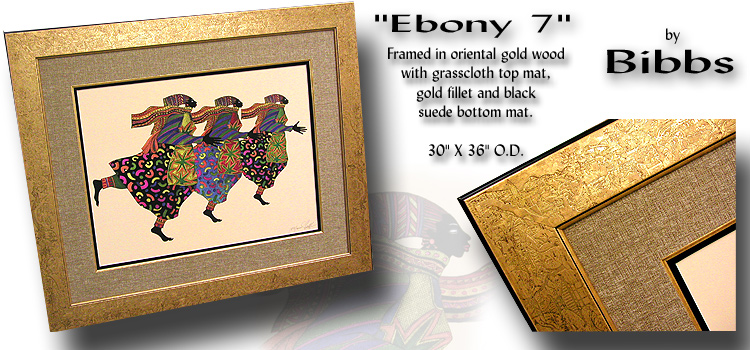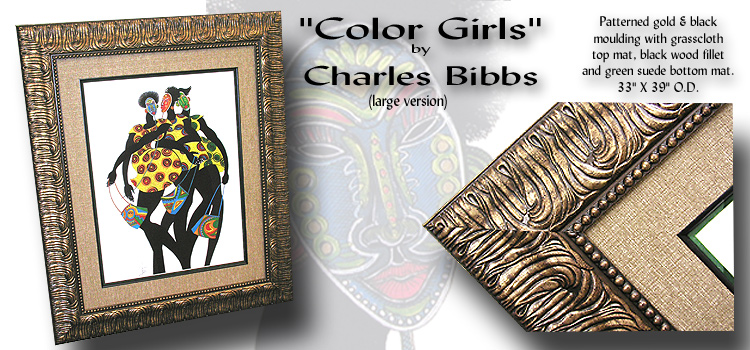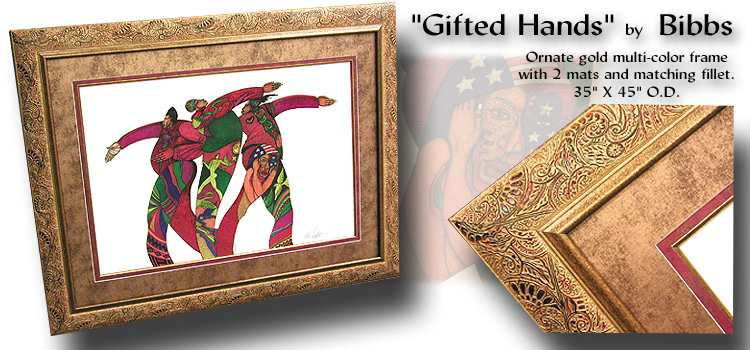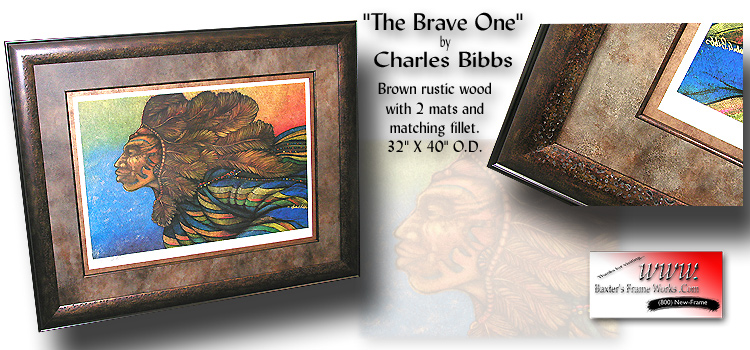 Framed in distressed rustic bronze with neutral silkscreen top mat, black wood fillet and accent bottom mat.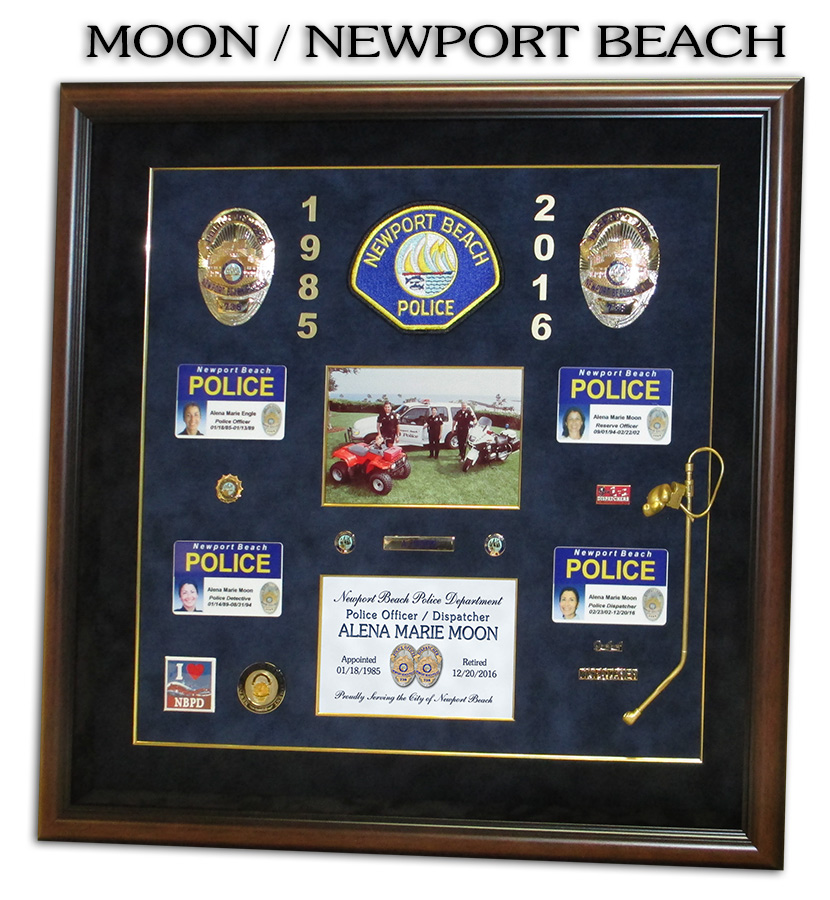 Framed in distressed rustic gold with tan silkscreen top mat, gold wood fillet and black bottom mat.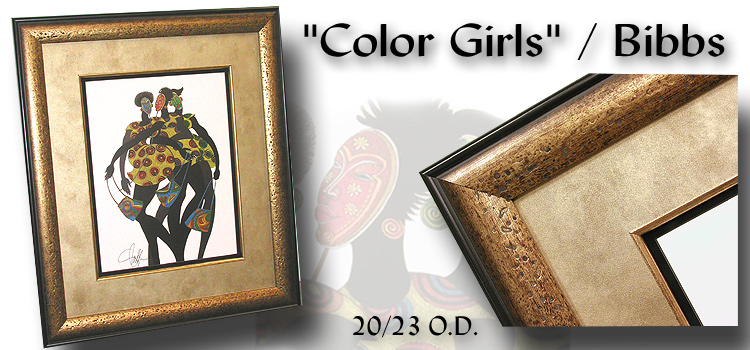 "Cherish the Word" - Framed 12 pieces for a NAACP event.
Stainless Frame / Black Tweed top mat / Red accent bottom.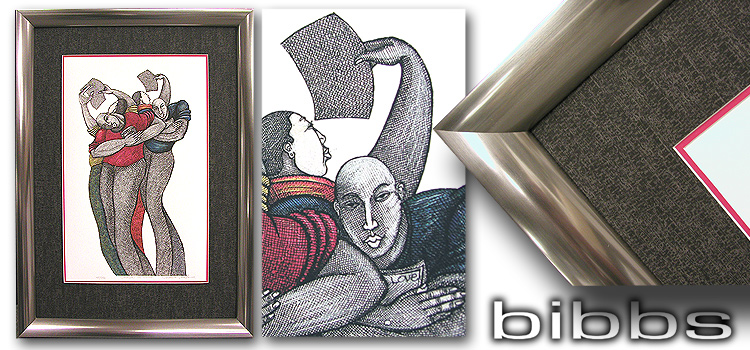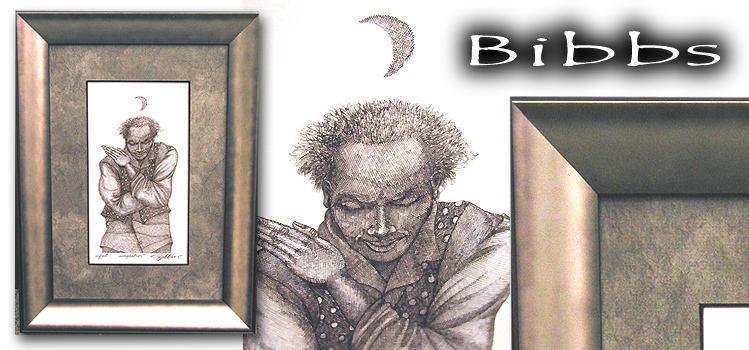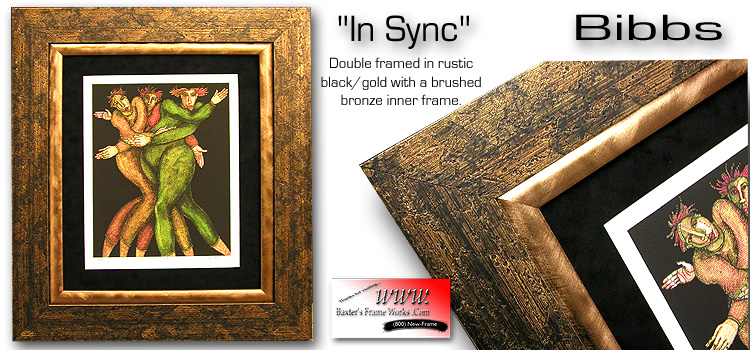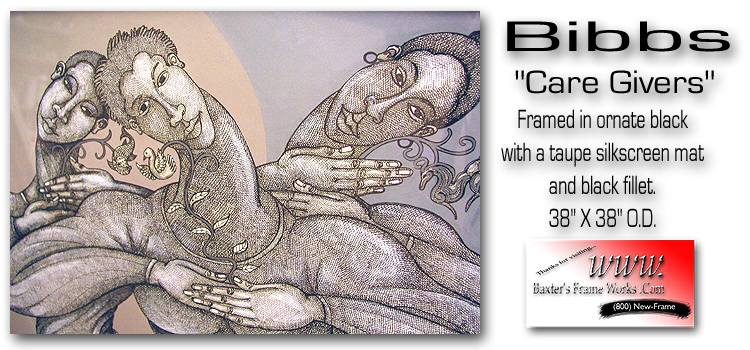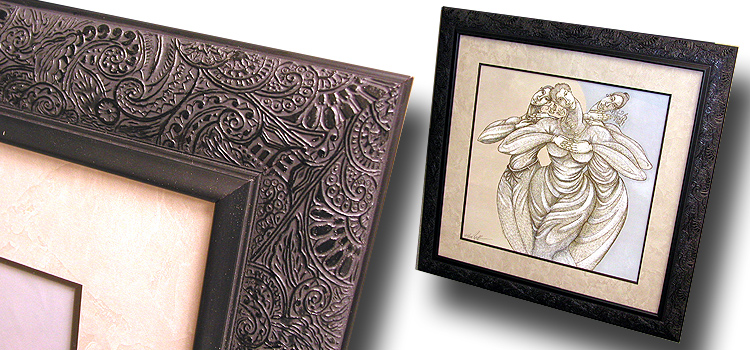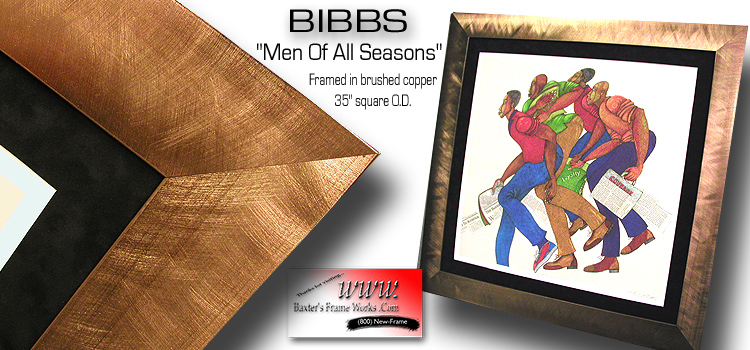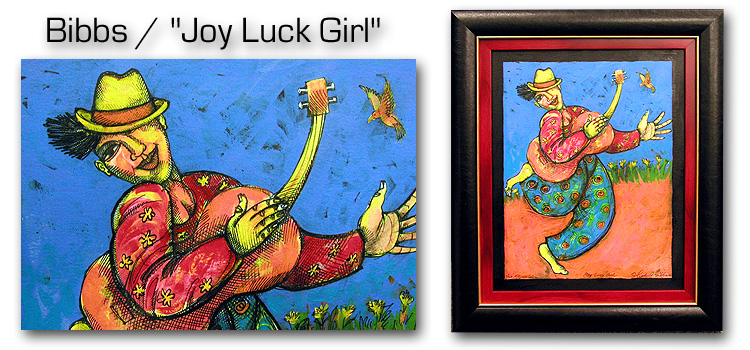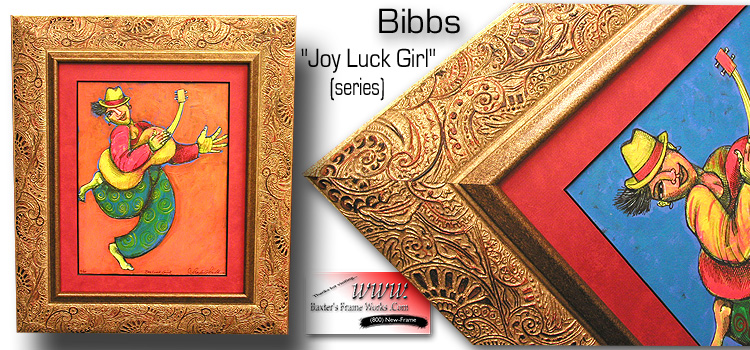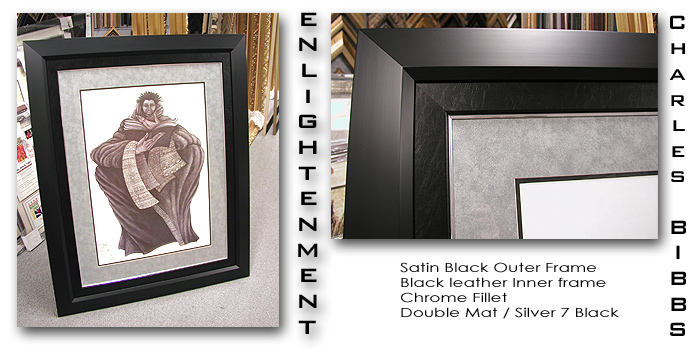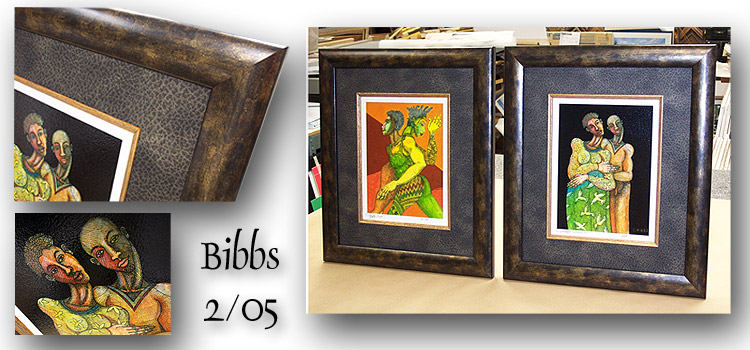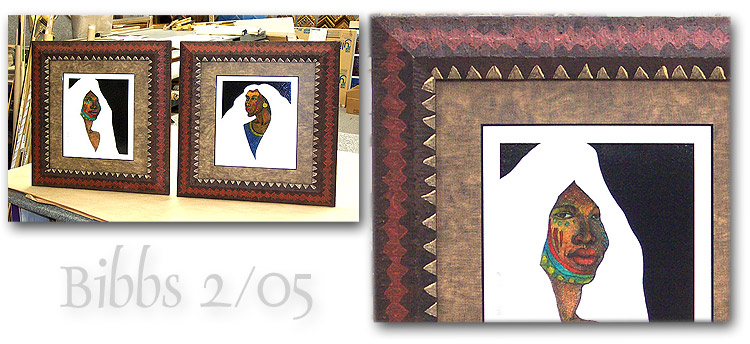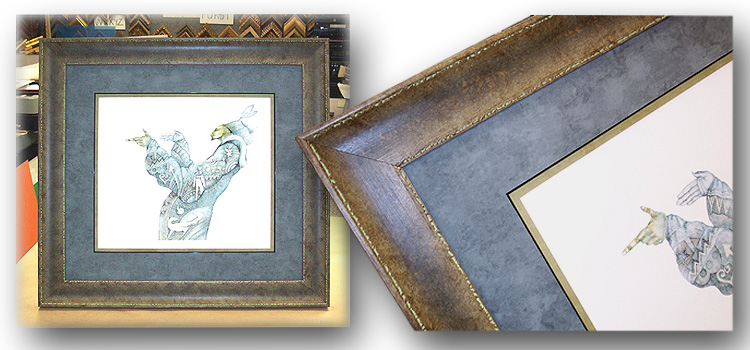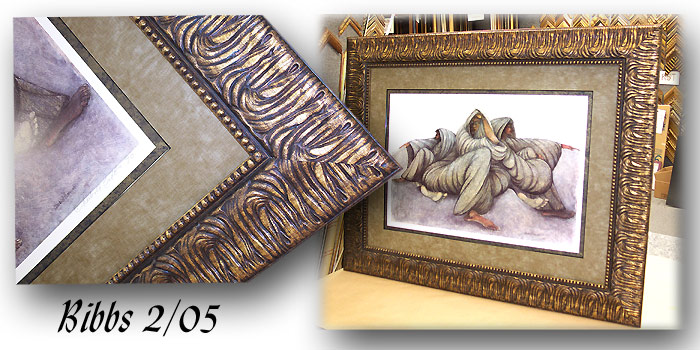 DIVERSITY / 2001 / Available as of 5/05 $350 / Framing as shown $270.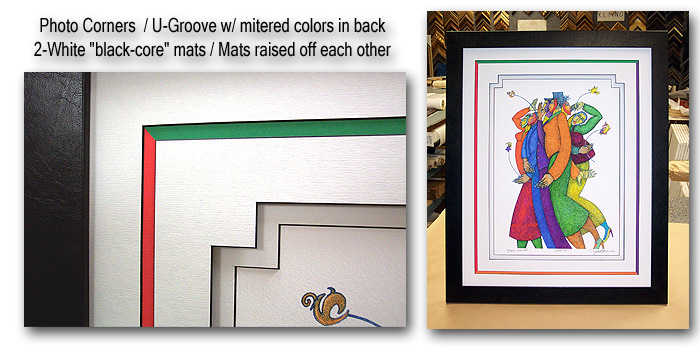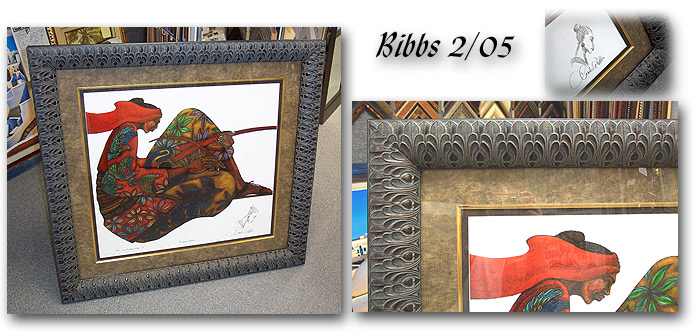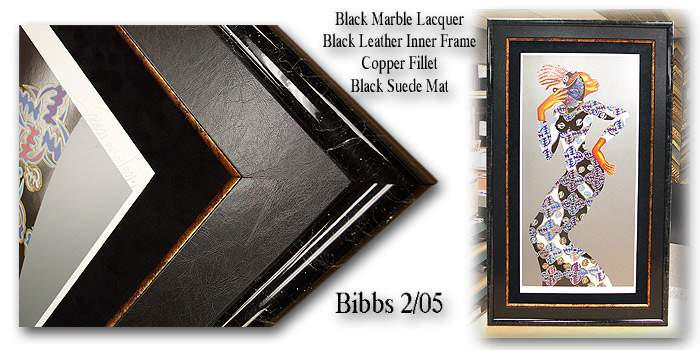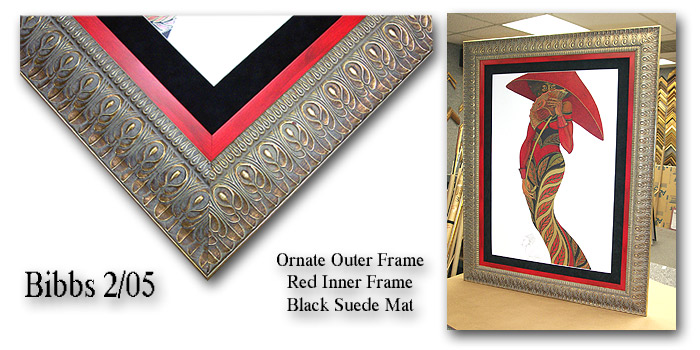 Framing as shown $210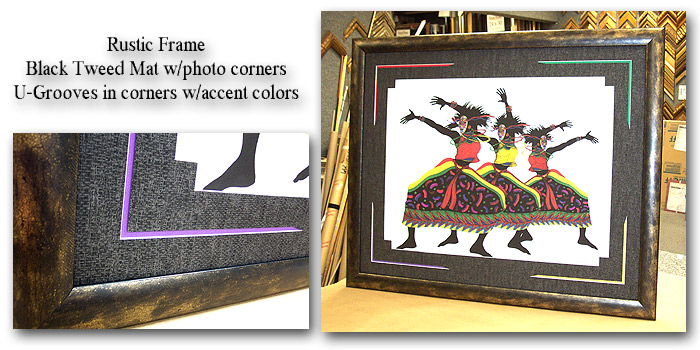 These pieces framed for 2 shows with "Poncho" (Larry "Poncho" Brown)
All original pieces... 1 / 28 / 06 & 2/ 4 / 06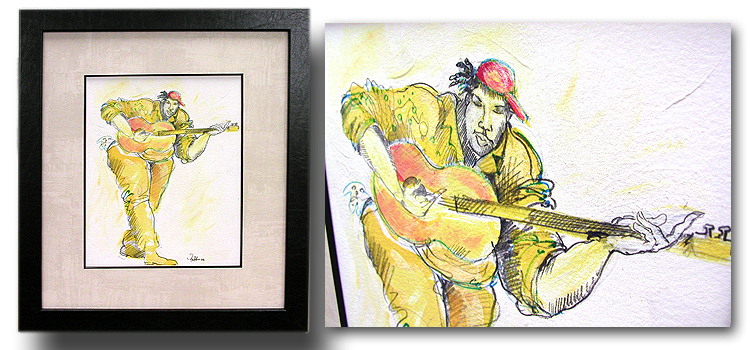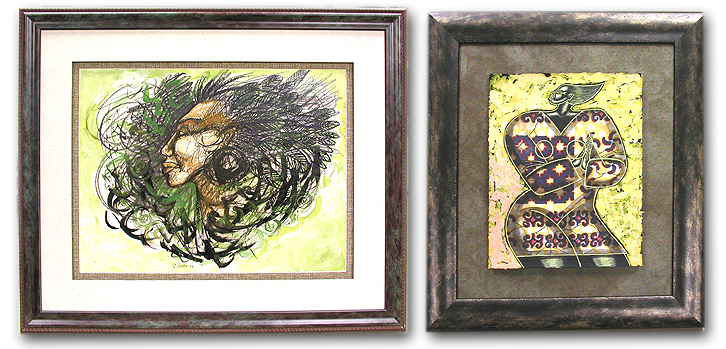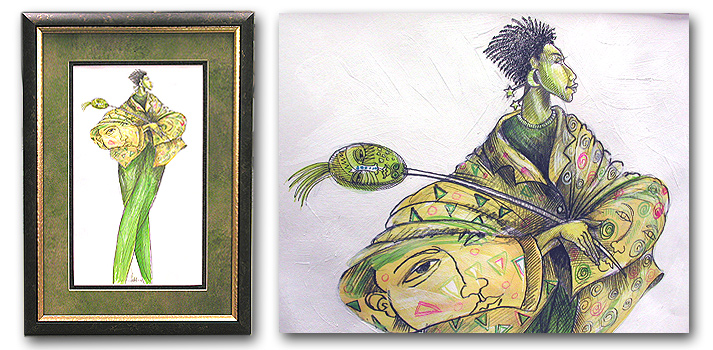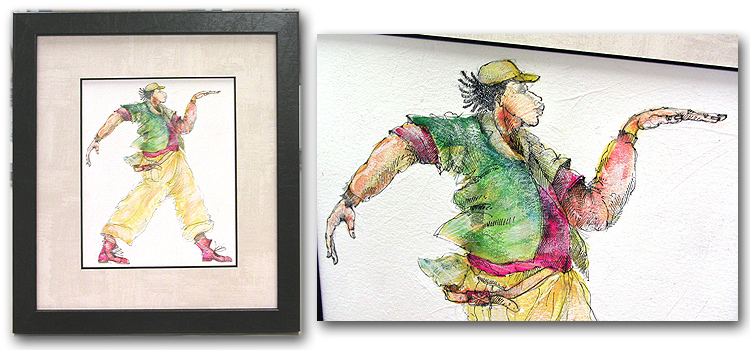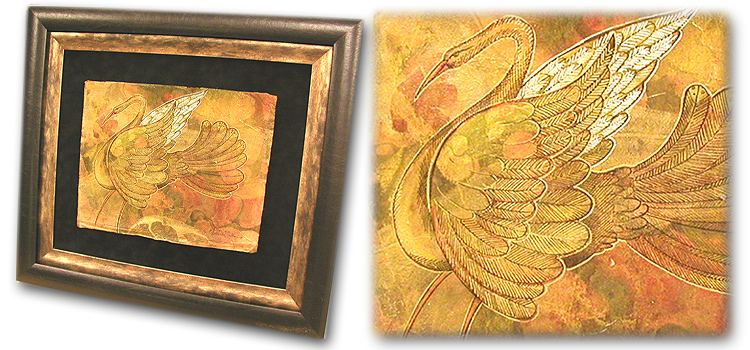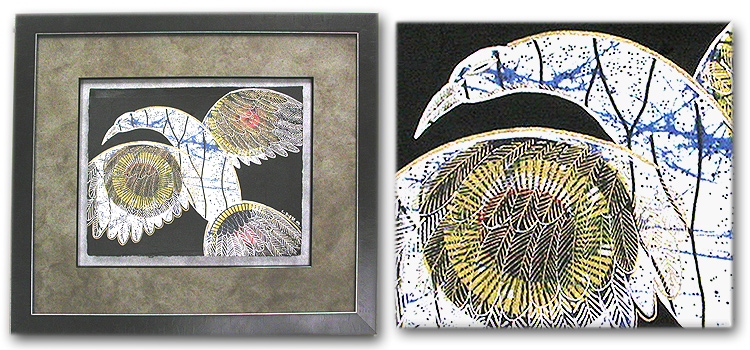 See our Law Enforcement and Military Website at
www.BadgeFrame.com
Call us...(800) New-Frame / National Toll Free
© 2005 Baxter's Frame Works / Badge Frame / All Rights Reserved
3811 Schaefer Ave., Suite A Chino, CA 91710 Local (909) 591-3033
EMAIL: fwbill32@verizon.net